The energy autonomy of the islands.
Written by Margarita Kyrkou, surveyor at Wattcrop.
Nowadays, due to the energy crisis experienced by the whole of Europe, there has been increasing reference to energy autonomy. But what does energy autonomy mean?
In the world literature, there are several definitions. Essentially, it is the meeting of the energy needs (electricity, heating & mobility) of a facility through local renewable energy sources, without importing energy and dependence on external factors. Thus, achieving energy independence for these areas.
An example of an area that is energy self-sufficient is the island of Samso in Denmark, the first on the planet. The inhabitants of the island managed to achieve 100% autonomy within 8 years (two years earlier than originally planned). This was achieved through the introduction of modern energy technologies but also through the residents' efforts to adapt to this change.
The island's electricity needs are met through eleven wind turbines (onshore and offshore), while heating is mainly provided by three regional biomass plants, which operate by burning straw, a district heating plant that combines wood chips and solar energy, and private geothermal and photovoltaic plants. Finally, transport emissions are zero as oil has been mostly replaced by electricity, bioethanol and hydrogen.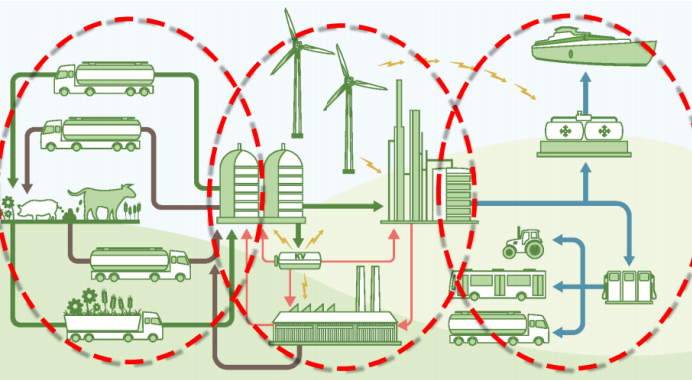 But is there energy autonomy in Greece?
The island of Tilos has made a start, seeking to become the first 100% energy autonomous island in the Mediterranean. Now, most of the island's energy needs are covered by the creation of a hybrid wind and solar power plant with storage capacity. In addition, the energy produced is much greater than the energy required for consumption and is therefore also exported to the surrounding islands. Indicatively, in the main port, electric vehicles pass in front of tourists, carrying goods. Solar panels power the tables at bus stops and a ramp that gives disabled people access to the sea.
Today, one by one, Greek islands are joining the list of "energy smart" islands. After Tilos, the baton was passed to Chalki, Agios Efstratios and Astypalaia. The main objective is energy autonomy, which is to be achieved through hybrid power generation systems, energy storage, hydrogen production, increased energy savings in the building sector, but also in other sectors of activity such as tourism, etc. In addition, a special role will be played by electrification in transport, both road and maritime transport, which indicates the need to develop the necessary infrastructure for alternative fuels.
The islands will also be included in this effort: Symi, Agathonisi, Arki, Marathi, Kasos, Halki, Pserimos, Gyali, Lipsi, Lipsi, Telendos, Nisyros, Tilos, Megalonisi, Oinousses, Psara, Fourni, Thymena, Amorgos, Anafi, Donousa, Herakleia, Antiparos, Schinoussa, Ios, Sikinos, Koufonissi, Folegandros, Thirassia, Kythnos, Kimolos, Serifos, Sifnos and Kea.
This is a gamble not only for these islands but also for the whole country.
https://qzl3c5.n3cdn1.secureserver.net/wp-content/uploads/2023/01/Στιγμιότυπο-οθόνης-2022-10-22-200737.png?time=1679713242
297
646
Chara Marmaridou
https://qzl3c5.n3cdn1.secureserver.net/wp-content/uploads/2019/01/CleantechGeek_logo.gif
Chara Marmaridou
2023-01-23 07:58:32
2023-01-23 07:58:34
The energy autonomy of the islands.